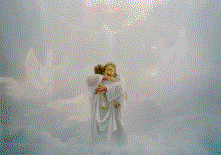 "Your brother shall rise again."
(John 11:23)
When you told me your loved one passed away, I didn't know what to say.
I asked the Lord,
What do I say to someone who has just experienced such a loss?
Then I remembered what Jesus said, when He saw Mary and Martha crying
after the death of their brother, Lazarus:
"Your brother shall rise again."
That's the verse God led me to right after my own brother's death at age 22.
I knew he was with Jesus, but I still needed something to hold onto,
so I had turned to the Bible: and that verse jumped right off the page.
I wish I could ease your pain.
I know the Lord will sustain you.
He says, "Fear not, for I will strengthen you,
I will uphold you with my strong right hand."
Know that your loved one is in a place of true peace now,
where there is no more pain, neither sorrow, nor crying.
And, as Jesus told Mary and Martha, you shall see him again.
Paul told the Thessalonians they should not grieve
as those who do not have the hope of eternal life,
that those who "fall asleep" in Jesus shall rise again.
We have this hope. Of course, it's normal to sense a loss.
I know Jesus will help you carry that burden, as I know He loves you dearly
and everything that touches you, touches Him.
God is faithful, and He will not allow you to be tempted
beyond what you are able to endure. This, too, shall pass....
God is supreme and fully in charge of all things.
Nothing takes Him by surprise.
He is personally aware of even the slightest events on earth --
even the fall of a sparrow, Jesus said.
"And you are of more value than many sparrows." (Luke 12)
Our job is to trust the Father's wisdom (Father Knows Best).
He really does have the eternal perspective and oversight on such things
and truly does have our best interests in mind.
"All things work together for good ..." (Romans 8:28)
Take care, little lamb.
Many things about tomorrow we don't understand,
but we know Who holds tomorrow ... and I know He holds your hand.
Your Shepherd dearly loves you.
Rest in His arms. Tell him how you feel.
He will comfort you and give you peace.
In His never-ending love,
Diane Dew
---
MAIN PAGE || Pro-life Perspective || Bible Studies || The Prayer Place || Poems || 'Comfort Ye My People' || Apologetics || Testimonies || Devotional Articles || Articles on Political & Social Issues || Fav Links || Music Links || Bible Q&A || Seniors' Section || Kids' Site || Humor ||
© Copyright 1998 Diane S. Dew All Rights Reserved
Email: DianeDew@aol.com
Diane Dew o PO Box 340945 o Milw WI 53234