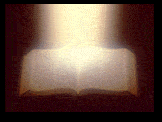 REVELATION
"Open thou my eyes, that I may behold wondrous things out of Thy law."
Psalms 119:18
© 1976, 1998 by Diane S. Dew
I. God has limitations on what he will reveal to man and what he keeps hidden.
Some things are hidden for a time, and revealed later. Other matters are
revealed only to a degree.
Deuteronomy 29:29 "The secret things belong unto the Lord our God;
but those things which are revealed belong unto us and to our children
forever, that we may do all the words of this law."
Romans 11:33, 34 "O the depth of the riches both of the wisdom and
knowledge of God! How unsearchable are his judgments, and his ways
past finding out!"
John 16:12 "I have yet many things to say unto you, but ye cannot
bear them now."
Revelation 10:4 "And when the seven thunders had uttered their voices,
I was about to write; and I heard a voice from heaven saying unto me,
Seal up those things which the seven thunders uttered, and write them not."
.
II. But certain of His truths God has chosen to reveal to man.
Daniel 2:19 "Then was the secret revealed unto Daniel in a night vision.
Then Daniel blessed the God of heaven."
Daniel 2:22, 28 "He revealeth the deep and secret things: he knoweth
what is in the darkness, and the light dwelleth with him.... But there is a
God in heaven that revealeth secrets, and maketh known..."
Mark 4:11 "And he said unto them, Unto you it is given to know the
mystery of the kingdom of God: but unto them that are without, all these
things are done in parables."
John 16:25 "These things have I spoken unto you in proverbs: but the
time cometh, when I shall no more speak unto you in proverbs, but I shall
shew you plainly of the Father."
.
III. God Himself must reveal spiritual truths to man.
A. The Lord Jesus had to open up the scriptures to the apostles.
Luke 24:27, 45 "And beginning at Moses and all the
prophets, he expounded unto them in all the scriptures the
things concerning himself."
Luke 24:45 "Then opened he their understanding, that
they might understand the scriptures."
B. Paul received revelation of the mysteries of God directly from
the Lord.
Galatians 1:11-20
C. It is the responsibility of the Holy Spirit to "teach you all things"
and "show you things to come."
John 14:26
John 16:13
Ephesians 3:3-5
1 Corinthians 2:10-13
1 John 2:27
IV. God has not chosen the wise of this world with whom to share His
mysteries, for He knows man's temptation to glory in wisdom (Jeremiah
9:23, 24). But God entrusts His truths to the simple, "that no flesh should
glory."
................
Psalms 119:130

Daniel 2:30 "But as for me, this secret is not revealed to me for
any wisdom that I have more than any living, but for their sakes
that shall make known the interpretation..."

Matthew 11:25, 26 (Luke 10:21) "...thou hast hid these things
from the wise and prudent, and hast revealed them unto babes.
Even so, Father: for so it seemed good in thy sight."

1Corinthians 1:19-29 "For it is written, I will destroy the wisdom
of the wise, and will bring to nothing the understanding of the
prudent. Where is the wise? Where is the scribe? Where is the
disputer of this world? Hath not God made foolish the wisdom
of this world? For after that in the wisdom of God the world by
wisdom knew not God, it pleased God by the foolishness of
preaching to save them that believe.... For ye see your calling,
brethren, how that not many wise men after the flesh, not many
mighty, not many noble, are called: But God hath chosen the
foolish things of the world to confound the wise; and God hath
chosen the weak things of the world to confound the things which
are might; And base things of the world, and things which are
despised, hath God chosen, yea, and things which are not, to
bring to nought things that are: That no flesh should glory in
his presence."
Copyright © 1976, 1997 by Diane S. Dew
---
Complete, printed and bound copies of these studies (100+ topics, 850+ pages) are available from:
Diane S. Dew, PO Box 340945, Milwaukee, WI 53234.
---
© Copyright 1998 Diane S. Dew All Rights Reserved Diane Dew o PO Box 340945 o Milw WI 53234